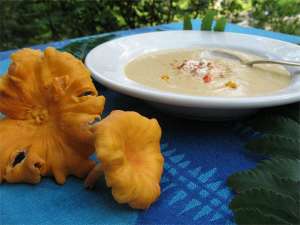 This chanterelle soup recipe is really rich so it's great in small amounts as a first course.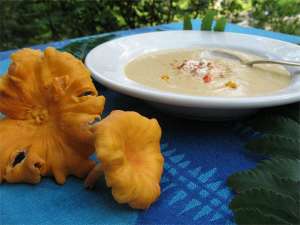 Bisque
INGREDIENTS
12 oz fresh chanterelles or 8 oz chanterelles sauted in butter

2 tsp butter

1/2 tsp salt

1/2 medium Vidalia onion or sweet onion diced finely

1 clove garlic minced

1/4 cup sherry

sprig of thyme

sprig of parsley

1 bay leaf

dash of cayenne

2 c chicken broth

2 c half and half

1 T lemon juice

pinch of saffron
INSTRUCTIONS
In a heavy bottom pan, saute onion in butter and salt on medium heat

Add Chanterelles and garlic and saute 5 minutes for fresh chanterelles - 1 minute for cooked chanterelles.

Add sherry to deglaze the pan.

Add herbs and chicken broth, bring to a simmer and simmer 10 to 15 minutes.

Add half and half and lemon juice and then puree.

Put back on heat and let it almost reach a boil.

Remove from heat and add saffron and let it infuse for a few minutes.

Serve garnished with a spoonful of herbed yogurt cheese (see recipe below).
Herbed Yogurt Cheese
INGREDIENTS
16 oz plain yogurt, preferably not low-fat

1 tsp sea salt

1 tsp chives

1 tsp lemon thyme minced

1 tsp yarrow minced

1 tsp flower petals like hibiscus, rose or nasturtiums
INSTRUCTIONS
In a medium bowl, whisk together yogurt, herbs and salt until combined.

Put mixture in collander lined with cheese cloth and suspend over a bowl to catch the whey.  Save the whey to make lacto fermented foods like saurkraut.  It'll keep in the refrigerator for about 6 months.

Cover and refrigerate overnight.