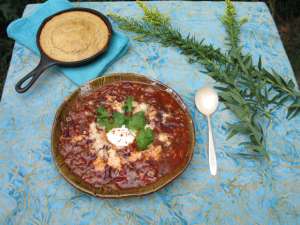 This is by God the best chili I've ever tasted, and I'm really not even much of a chili fan.  Cornbread fan, yes, and the cornbread is damned good, too.  My mom comes from South Georgia farm country and cornbread is a staple around here. 
Cindy, on the other hand, moved to the South from Connecticut, but she's given over to most our ways.  It took her a little longer to realize that the virtue of cornbread lies not in the sweet, but in the savory. 
When she was a chef working at an artists retreat here in the Southern Appalachians, she once served her guests cornbread with honey.  After the meal, a sweet southern lady from Atlanta came into the kitchen and, with the gentle tone of a mother correcting her young child's pronunciation said, "Let me show you how to make cornbread."  With this, Cindy partook of the body of the Southern Cornbread. 
Truth be told, she still likes sweet cornbread, too. You can take the girl out of the North, but...
Venison Chili & Cornbread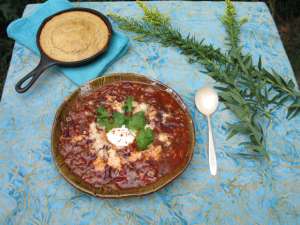 Venison chili
INGREDIENTS
1 lb venison (deer, elk, bison, etc.), ground or cut into 3/4" chunks - beef may be used instead

2 strips of bacon, cut into half inch pieces - scissors make the task simple

1 Tbls bear fat (rendered) - extra virgin olive oil or any other cooking oil may be used instead

1 sweet onion, chopped (about 2 cups)

1 sweet bell pepper, seeded and chopped (about 2 cups) - any kind of sweet pepper may be used

sea salt to taste

1 Tbls garlic, chopped

2 teaspoons cumin seeds, ground

3 teaspoons chili powder

2 teaspoons hot paprika

splash of sherry

2 cups tomatoes with juice, chopped

2 cups chicken broth

1-1/2 cups cooked red kidney beans

2 teaspoons chipotle in adobo, pureed

2 teaspoons lime juice

2 Tbls fresh cilantro, chopped

smoked mozzarella cheese, grated

sour cream
INSTRUCTIONS
Brown venison and bacon in a heavy bottom pot. Set aside.

In the same pot, saute onions, peppers and salt in bear fat for 5 minutes on medium heat.

Add garlic, cumin, chili powder and paprika and continue to cook for 1 minute.

Add sherry and continue to cook for 1 minute.

Add tomatoes, beans, venison, bacon, chicken broth and chipotle puree. Bring to a simmer, reduce heat, cover and cook about 30 minutes stirring occasionally.

Stir in lime juice and cilantro and adjust salt to taste. Cook for 2 more minutes.

Serve garnished with grated smoked mozzarella, sour cream and cilantro with jalapeno cornbread (below).
Jalapeno Cornbread
INGREDIENTS
2 Tbls unsalted butter

1/3 cup yellow cornmeal

1/3 cup whole wheat flour

1-1/2 teaspoons small wild seeds - we used Japanese knotweed and wild amaranth seeds

1/4 teaspoon baking soda

1/4 teaspoon baking powder

1/8 teaspoon sea salt

1 teaspoon fresh jalapeno, seeded, de-veined and minced

1 large farm egg

2/3 cup buttermilk
INSTRUCTIONS
Preheat oven to 400 F.

Melt butter in oven in a 6-1/2" cast iron skillet

Combine dry ingredients in a medium sized mixing bowl. Stir in buttermilk and egg and beat with a wooden spoon until mixture is the consistency of cake batter.

Remove skillet from oven and swirl to coat with butter. Pour melted butter into the batter and continue to beat until combined.

Pour batter into the hot skillet - it's important that the skillet be hot so a crust is formed. Bake for about 15 minutes or until golden brown.

After removing from oven, rub butter on top to keep cornbread moist and serve.