Learning about edible wild plants has allowed me to see the natural world from different, unique perspective. I love meeting new plants and I've always held a deep appreciation for their beauty, but the context of "usefulness" makes them so much more fascinating. It's exciting for me to discover that a plant I've known for years -- Devil's walkingstick for instance -- happens to be edible. It's like getting a more intimate glimpse of an old friend.
There are so many wild edibles out there, some delicious and some just palatable, I wonder how many I'm overlooking or how many aren't commonly known to be edible. Or were once commonly known but more recently dropped out of use. For reference, I decided to compile a list of some of the plants I've foraged or know to be edible in some capacity.
Of course it would take a book to list them all and I may continue to add to it. I will definitely be trying to check off the ones I haven't had the opportunity to forage yet.
The list format is "Common Name | Alternate Name | Alternate Name (Latin name)". Obviously, not everything on the list is edible in its entirety. Some parts may only be edible when cooked, some are only really useful as tea, etc. It's up to you to delve into specifics.
Plant list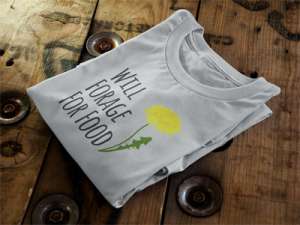 Will Forage for Food shirt on Amazon
Agave (genus Agave)
Alligator Weed (Alternanthera philoxeroides)
Amaranth | Pigweed (genus Amaranthus)
Apple (genus Malus)
Arrowhead | Duck Potato | Indian Potato | Wapato (Sagittaria latifolia)
Asparagus (Asparagus officinalis)
Autumn Olive (Elaeagnus umbellata)
Bamboo (subfamily Bambusoideae)
Basswood | Linden (Tilia americana)
Beebalm | Bergamot (genus Monarda)
Beech (Fagus grandifolia)
Beauty Berry (Callicarpa americana)
Birch (genus Betula)
Black Walnut (Juglans nigra)
Blackberry (genus Rubus)
Bladderwrack (Fucus vesiculosus)
Blueberry (Vaccinium)
Burdock (genus Arctium)
Butternut | White Walnut (Juglans cinerea)
Cattail (genus Typha)
Cherry:
Black Cherry (Prunus serotina)
Chokecherry (Prunus virginiana)
Pin Cherry (Prunus pensylvanica)
Chestnut (genus Castanea)
Chickweed (Stellaria media)
Chicory (Cichorium intybus)
Chinkapin | Chinquapin (genus Castanea)
Clover (genus Trifolium)
Common dandelion (Taraxacum officinale)
Common violet (Viola sororia)
Cranberry (genus Vaccinium)
Dayflower:
Asiatic Dayflower (Commelina communis)
Virginia Dayflower (Commelina virginica)
Daylily (genus Hemerocallis)
Devil's Walkingstick (Aralia spinosa)
Dock | Curly Dock | Yellow Dock (genus Rumex)
Dollar Weed | Pennywort (Hydrocotyle umbellata)
Duckweed (Wolffia globosa)
Elderberry | Elderflower (genus Sambucus)
Evening Primrose (genus Oenothera)
Fiddlehead Fern (several genuses)
Field Garlic (Allium oleraceum)
Forsythia (genus Forsythia)
Garlic Mustard (Alliaria petiolata)
Glasswort (genus Salicornia)
Greenbrier (genus Smilax)
Ground Cherry (genus Physalis)
Ground Ivy | Gill-Over-The-Ground (Glechoma hederacea)
Groundnut (Apios americana)
Hairy Bittercress (Cardamine hirsuta)
Hawkweed (genus Hieracium)
Hawthorn (genus Crataegus)
Hazelnut (Corylus avellana)
Hickory (genus Carya)
Honeysuckle (genus Lonicera)
Hornbeam | Musclewood | Ironwood (Carpinus caroliniana)
Horsemint (Monarda Punctata)
Horsetail (genus Equisetum)
Horseweed | Mare's Tail (Conyza canadensis)
Hydrilla (Hydrilla verticillata)
Indian Cucumber (Medeola virginiana)
Japanese Knotweed (Fallopia japonica)
Jerusalem Artichoke | Sunchoke (Helianthus tuberosus)
Jewelweed (Impatiens capensis)
Kousa Dogwood (Cornus kousa)
Kudzu (genus Pueraria)
Lambsquarters (Chenopodium album)
Locust:
Black Locust (Robinia pseudoacacia)
Honey Locust (Gleditsia triacanthos)
Lotus:
American Lotus (Nelumbo lutea)
Indian Lotus (Nelumbo nucifera)
Loquat (Eriobotryae Japonicae)
Mahonia (genus Mahonia)
Mallow (genus Malva)
Maple (genus Acer)
May Apple (Podophyllum peltatum)
Milkweed (genus Asclepias)
Mimosa | Silk Tree (Albizia julibrissin)
Miner's Lettuce (Claytonia perfoliata)
Mock Strawberry | Indian Strawberry | False Strawberry (Duchesnea indica)
Mountain Mint (genus Pycnanthemum)
Mulberry (genus Morus)
Nasturtium (genus Tropaeolum)
Nettles:
Wood Nettle (Laportea canadensis)
Oak (genus Quercus)
Orach (genus Atriplex)
Oxeye Daisy (Leucanthemum vulgare)
Parsnip (Pastinaca sativa)
Partridge Berry | Squaw Vine (Mitchella repens)
Passion Vine | Passion Flower | Maypop (genus Passiflora)
Pawpaw (Asimina triloba)
Pear (genus Pyrus)
Pecan (Carya illinoinensis)
Peppergrass (Lepidium virginicum)
Persimmon (genus Diospyros)
Pickerel Weed (Pontederia cordata)
Pine (genus Pinus)
See Pine Needle Tea
Pineapple Weed (Matricaria discoidea)
Pipsissewa (genus Chimaphila)
Plantain (genus Plantago)
Pokeweed (Phytolacca americana)
Plum:
Amercian Plum (Prunus americana)
Hog Plum (Prunus umbellata)
Chickasaw Plum (Prunus angustifolia)
Prickly Pear (genus Opuntia)
Purple Dead Nettle (Lamium purpureum)
Purslane (Portulaca oleracea)
Queen Anne's Lace | Wild Carrot (Daucus carota)
Quince (genus Cydonia)
Ramps (Allium tricoccum)
Raspberry (genus Rubus)
Redbud (Cercis canadensis)
Rivercane (Arundinaria gigantea)
Rose (genus Rosa)
Russian Olive (Elaeagnus angustifolia)
Sassafras (genus Sassafras)
Serviceberry | Juneberry | Shadbush (genus Amelanchier)
Shepherd's Purse (Capsella bursa-pastoris)
Smartweed | Lady's Thumb (genus Polygonum)
Sochan | Green-Headed Cone Flower (Rudbeckia laciniata)
Sorrel:
Sheep Sorrel (Rumex acetosella)
Wood Sorrel (Oxalis acetosella)
Spicebush (Lindera benzoin)
Spiderwort (genus Tradescantia)
Spring Beauty (Claytonia virginica)
Sumac:
Smooth Sumac (Rhus glabra)
Staghorn Sumac (Rhus typhina)
Thimbleberry | Salmonberry (Rubus parviflorus)
Thistle:
Bull Thistle (Cirsium vulgare)
Milk Thistle (Silybum marianum)
Toothwort (Cardamine diphylla)
Trout Lily (Erythronium americanum)
Watercress (Nasturtium officinale)
Wild Garlic (genus Allium)
Wild Grape:
Muscadine (Vitis rotundifolia)
Scuppernong (Vitis rotundifolia 'Scuppernong')
Mustang Grape (Vitis mustangensis)
Wild Lettuce (Lactuca virosa)
Wild Onion (genus Allium)
Wineberry (Rubus phoenicolasius)
Yarrow (Achillea millefolium)
Comments
it is nice to know that many plants we call weeds are good food
Wow so helpful I'm going to use this to study and expand my knowledge on plants.