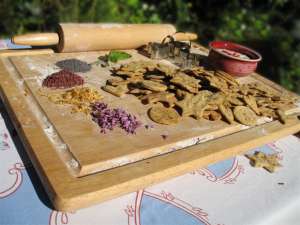 Here's another recipe that Cindy made for the Wild Food Weekend last month.  The crackers make a great medium for incorporating super nutritious wild seeds into a meal.  And making crackers means there's one less thing to buy.  You can also crush and freeze them to use later as breadcrumbs in other recipes.
The watercress cheese actually seems to taste better after 3 days.  Just be sure the water is clean wherever you forage for watercress. 
These are also really good served with wild berry jam.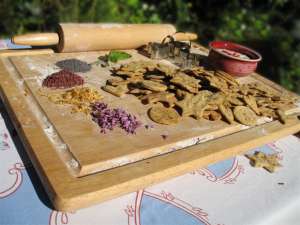 Herbed Watercress Cheese
INGREDIENTS
8 oz organic cream cheese

1 cup watercress leaves

2 teaspoons edible flower petals (hibiscus, pineapple sage, nasturtium, etc.), chopped

2 teaspoons sedum leaves

1 teaspoon wood sorrel pods, leaves and flowers

1 teaspoon yarrow, chopped

1 teaspoon mint

1 teaspoon chives, chopped

1 teaspoon garlic chives, chopped

1 Tbls + 1 teaspoon lemon juice

3 Tbls or more half and half

sea salt to taste
INSTRUCTIONS
Add all ingredients to food processor and blend until smooth.  Use as much half and half necessary to get mixture to spreading consistency.

Let sit in refrigerator for at least 12 hours to fully bring out flavor.
Wild Flower Crackers
INGREDIENTS
1-1/2 cups unbleached white flour

1/2 cup whole wheat flour

1 teaspoon baking soda

1 teaspoon baking powder

1/2 teaspoon sea salt

1/2 teaspoon dry mustard

3 Tbls minced herbs and edible flowers (Cindy used basil, parsley, chives, sage, calendula and dried redbud flowers)

3 Tbls small seeds (Cindy used Japanese Knotweed and lambs quarters)

1/2 cup cold unsalted butter cut into half inch cubes

1 large farm egg

1/4 cup buttermilk
INSTRUCTIONS
Combine and mix dry ingredients, reserving 1 Tbls seeds, in a mixer, food processor or mix by hand with a pastry cutter.

Add butter and cut into flour until mixture is the consistency of tabouli or course grain.

Add egg and buttermilk and combine until dough forms a soft ball.

Wrap dough in waxed paper and let rest in refrigerator for 30 minutes.

Divide dough into 4 equal pieces and roll each piece with a rolling pin on a floured board until dough is 1/8 inch thick.

Sprinkle remaining seeds onto dough and lightly press so they'll stick.

At this point you can cut dough into individual crackers or bake as a sheet and break into crackers after baking.

Prick dough with fork to prevent air bubbles and bake on a cookie sheet at 350 F for 10 to 12 minutes or until lightly browned.
NOTES
Serve immediately or store in an airtight container.