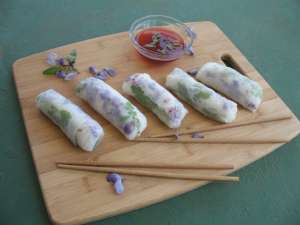 My first experience with eating wisteria and redbud flowers was at a wild food potluck years ago. I had recently read you could eat both but hadn't tried. The mild sweet of wisteria, the acidic sour of redbud and the complementary beauty of both sounded perfect for a salad.
So I spent an afternoon foraging the flowers and a few greens around an old abandoned home site. My salad was a big hit with the kids...especially the little girls. They loved picking out the flowers one by one to eat them. 
I look forward to those flowers every year. They signal the onset of spring for me and foraging flowers is so much fun. You can really gather a bunch of wisteria blossoms quickly, given the right location. We see it growing along the road side a lot and stopped at an old home place to get some for our spring rolls. Chinese wisteria is what we see mostly here in the South, being the pesky invasive that it is.
Look for the purple flowered vines entwined with trees and brush at the edge of woods, along roadsides and especially around abandoned house sites where it has escaped ornamental cultivation. It blooms in early spring peaking around mid-May. A word of caution about wisteria: the seeds and pods are very toxic. The flowers are edible in moderation. All parts of the plant contain glycoside in varying amounts, so don't base your entire diet around them and use your own judgment if you decide to eat them.
Redbud flowers are tiny and delicate. We picked a couple cups from ten trees or so. You could easily get that from one good sized tree but we foraged a bunch of smaller trees and were careful to leave plenty for pollination and just for the sake of looking at them. To harvest, just grab a branch and strip off the flowers.
The redbud is one of those trees that blends innocuously into the landscape remaining hidden from view until it blooms in early to late spring. I'm always amazed at how many I've unknowingly walked or driven past every year only to be discovered once I see the showy pink blossoms. Redbud flowers cover the tree, emerging just before the heart-shaped leaves. The trees have been planted ornamentally but also occur prolifically in the wild.
They're easy to spot along the side of the road while they're blooming but you can also find them growing deeper in the woods as understory trees. They occur mostly in the southeastern quadrant of the U.S. and can grow up to 30 feet tall. "Yard" trees are the easiest to harvest since their branches spread out in the sun.
Once you pick your flowers, you'll want to remove the tough stems before eating.
The crunchiness of redbuds makes them a good substitute for bean sprouts, which makes them great for spring rolls. I love spring rolls, but I really love seeing the flowers through the rice paper. Seems like the perfect way to infuse spring into spring rolls. Cindy likes to make these throughout the year with various flowers. Bachelor buttons and nasturtium flowers are a beautiful combination, too.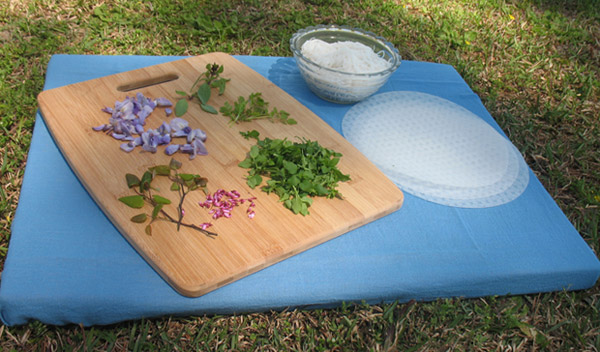 Redbud & Wisteria Spring Rolls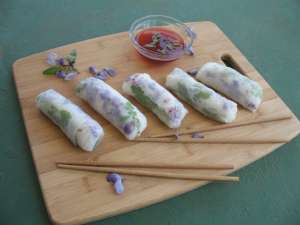 Spring rolls
INGREDIENTS
several rice paper wrappers (they get sticky and tricky so you'll probably ruin some)

thin rice noodles

1 cup chickweed leaves and flowers

1/2 cup wisteria flowers

2 Tbls redbud flowers

handful of basil and/or cilantro (we used Thai basil)
INSTRUCTIONS
Bring a quart of water to a boil, remove from heat, add rice noodles and let soak for ten minutes. Then rinse with cool water and drain.

Fill a large bowl with hot water to soak the rice papers.

Lay out the flowers and leaves in individual piles to facilitate assembly.

Soak one wrapper at a time for 5 to 10 seconds.

Lay wrapper on a towel and add ingredients - lay out flowers first so they'll be on the outside - Cindy likes to build from the middle of the wrapper, but some say the bottom works best.

Fold the sides in and roll up carefully.
Dipping Sauce
INGREDIENTS
4 Tbls jelly (my favorite is Cindy's strawberry Thai basil jelly)

1 tsp ginger, chopped

1 tsp garlic, chopped

1 Tbls tamari (substitute with salt if you want your sauce to be red)

1 tsp vinegar

red pepper to taste

1 Tbls basil leaves, crushed
INSTRUCTIONS
Bring everything except basil to a boil, remove from heat, add basil, let sit for 10 minutes and strain.