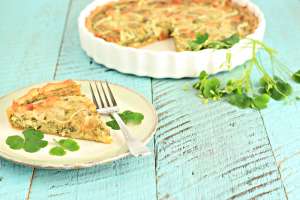 Wood sorrel is one of those "weeds" that, once you've got it, you've got it everywhere. At least around our place. It grows in the garden, in flower beds, and generally all around the yard.
It's sometimes mistaken for clover but wood sorrel's sour, lemony flavor and heart-shaped, folded leaves set it apart. 
Harvesting and garbling wood sorrel is a tedious process, so it's really more of a treat, or a tea, than a staple. Leaves, flowers, and buds all work well. To process, strip everything (except brown or wilted parts) from the stem by hand and set aside until you have enough to use.
Sheep sorrel or French garden sorrel, both of which are easier to harvest and process, can be used, as well.
What makes this tart so tasty is the balance of sour from the sorrel, sweet from the onion, and savory from the cheese. 
Wood Sorrel and Sweet Onion Tart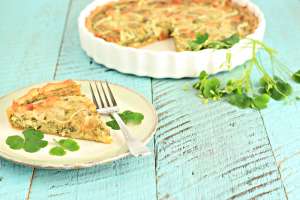 INGREDIENTS
1 prebaked tart shell or you could substitute pie crust

2 T butter

3 c Vidalia or other sweet onion (about 1 medium onion), thinly sliced

1/4 tsp salt

splash of dry white wine

1 T flour

5 oz sorrel leaves (if using wood sorrel include flowers and pods - avoid tough stems)

2 eggs

1 c heavy cream

freshly ground black pepper

a few scrapings of nutmeg or a pinch of ground spicebush berry

5 oz Gruyere cheese, grated
INSTRUCTIONS
In a heavy bottom pan, cook onion, salt and butter slowly on medium-low heat, stirring occasionally, until onions are soft.

Raise heat to medium, add wine and let it cook off for a minute or so.

Add flour and stir to evenly distribute and cook for 2 minutes.

Add sorrel, stir, cover and cook 1 minute to wilt.  Remove from heat.

In a large bowl, whisk eggs, cream, nutmeg and pepper.

Combine sorrel mixture, egg mixture and half of the Gruyere cheese.

Sprinkle the other half of the Gruyere cheese in the bottom of the tart shell.

Fill tart shell with mixture and bake at 375 for 30 - 40 minutes until it's set and lightly browned.