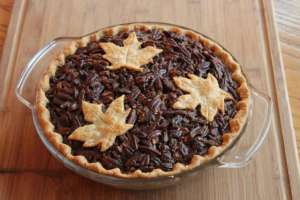 We're lucky to have lots of Georgia pecans - both wild and planted. Most strains of pecans you can buy now are bred to be big and storable, which means they have a lower oil content. That also means they have less flavor. Wild pecans, for the most part, are small, more tedious to get into and a lot tastier. We forage of mix of Seedlings (the wild strain) with our planted pecans.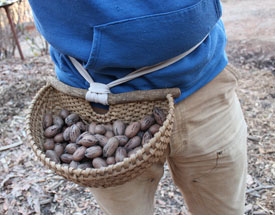 This year foraging was a lot more fun with our swanky new hip-baskets. I got to use an olive picking basket for gathering blueberries years ago. A friend had brought it back from olive country somewhere in the Mediterranean. It was perfect for hands-free foraging but I've never been able to find another. I only recently even came across a photo of one. After I showed it to my basket-making friend Kerry she made a couple for Cindy and me. I so love them and can't wait to use them for mushrooms and everything else.
We usually sell some of our meager pecan harvest and save some for special projects like Cindy's maple bourbon pecan pie. I look forward to it every Thanksgiving and Christmas. I like pecan pie OK, but most are too sweet and I'm not a big fan of Karo syrup. This recipe uses maple syrup intead. It's the perfect complement for pecans and bourbon and it's fairly easy to make.
INGREDIENTS
3 lg. farm eggs

3/4 C milk

1 3/4 C well packed brown sugar

1/2 tsp salt

1/2 stick unsalted butter melted

2 T bourbon

2 tsp vanilla extract

2 1/2 C (8 oz) pecan pieces lightly toasted

1/2 C maple syrup

1 9-inch pie shell
INSTRUCTIONS
Whisk eggs and milk until well blended.

Add brown sugar and salt, melted butter, bourbon, vanilla and maple syrup - whisk until well combined.

Pour mixture over pecans in pie shell.

Bake 10 minutes @ 400° F.

Reduce heat to 325° F and bake about 30 more minutes until "puffed up" and golden.